Breakfast Under the Tree
5th June - 15th August 2021
Carl Freedman Gallery presents BREAKFAST UNDER THE TREE, an exhibition curated by the actor Russell Tovey.
The exhibition brings together a diverse range of depictions of contemporary social scenes, group portraits and shared spaces. Populated by characters both real and imaginary, and wide-ranging in style, from neo-realism to cartoonish dreamscapes, they together form a pictorial survey of how we live now.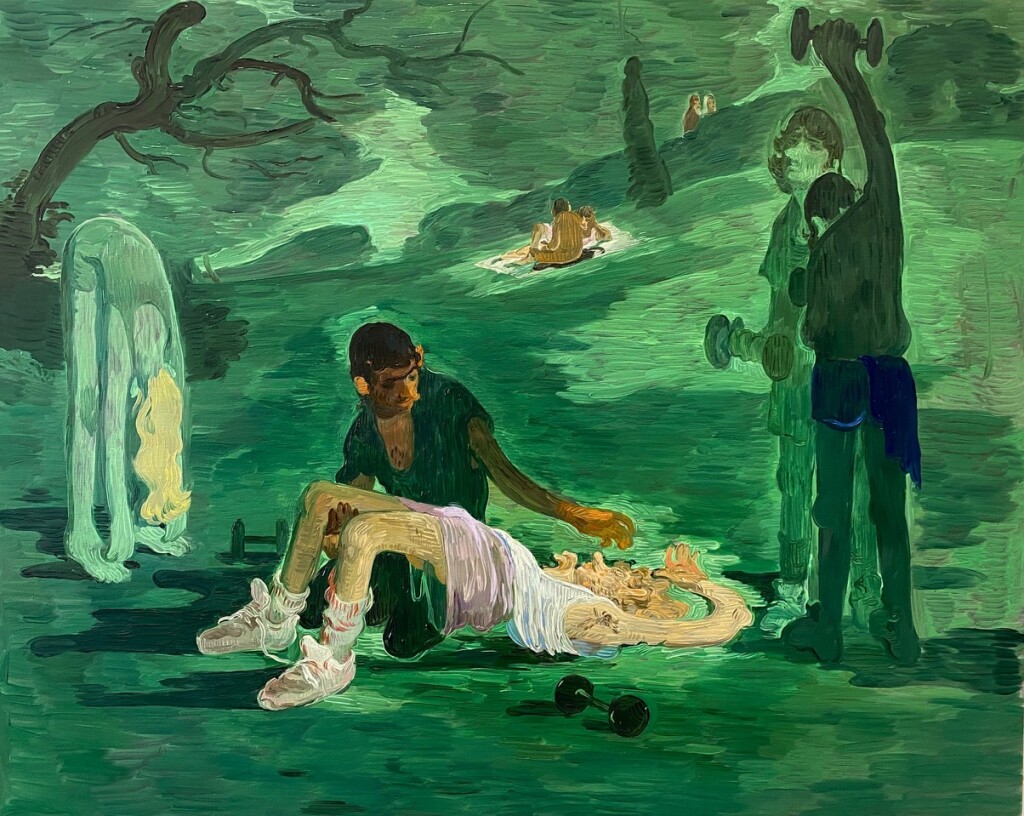 Highlights of the show include new work by legendary underground feminist artist Caroline Coon, rising stars of the queer New York painting scene Jon Key, Doron Langberg, Ana Benaroya and Salman Toor (recent solo at Whitney Museum of American Art), alongside never-before-seen works by Toyin Ojih Odutola (recent solo at Barbican), Susan Chen, Jeffry Mitchell, Cassi Namoda, Cheyenne Julien and Charmaine Watkiss, the highly detailed social realism of Lenz Geerk and Benjamin Senior (current billboard project at Southbank Centre), the grotesque and unruly ceramics of Lindsey Mendick (shortlisted for the 2020 Pinchuk Future Generation Art Prize), and emerging voices Solo Olulode, Oscar yi Hou and Hannah Quinlan & Rosie Hastings.
The exhibition is supported by Gucci.
About Russell Tovey...
With an extensive background in film, television and theatre, award winning actor Russell Tovey can recently be seen as a leading role in ITV/HULU drama series The Sister, from Luther creator Neil Cross. He was nominated for a 2020 Critic's Choice Award for best supporting actor for his role in the critically acclaimed BBC/HBO Drama series Years and Years written by Russell T. Davies. He also starred in Bill Condon's The Good Liar for Warner Bros. opposite Ian McKellen and Helen Mirren and recently completed filming on Sony's Screen Gems romantic drama Text For You with Celine Dion and Priyanka Chopra. Russell will next be seen this summer in a new West End revival of Nick Payne's Constellations. As well as acting, Russell is also a published writer and co-hosts the hit art podcast,  Talk Art, with friend and gallerist Robert Diament, where they interview leading artists, curators, gallerists, and celebrities about their shared passion.Their first book "Talk Art: Everything You Wanted To Ask About Contemporary Art But Were Afraid To Ask" will be published by Octopus/Hachette on 13th May 2021. This year, Russell will also appear on the judging panel for the 2021 Turner Prize, the prestigious annual art prize presented to a British visual artist.
@russelltovey @talkart
Address
Carl Freedman Gallery
28 Union Crescent
Margate
CT9 1NS
Contact