* CANCELLED * Westgate Scarecrow Festival
18th July - 19th July 2020
This event has now been cancelled. The event's organisers say:
We have been advised that the format for the Westgate Day event which we launched so successfully last year and which inevitably generates large crowds, is not going to be possible this year due to the uncertainty around the Coronavirus COVID-19 situation that is ongoing. Sadly, therefore we have had to take the decision to cancel the Westgate Day event for this year which was proposed to be held on 18th July 2020.
******
Westgate Day is our Town Anniversary on 18th July, and it links to the year 1870.
It was a significant year in the town's history. It was the year the Admiralty installed the Coastguard and the Coastguard houses/cottages along our coastline. This year saw the first development of the Westgate Estate - from which our town grew. And 1870 was historically in keeping with the "Social Season" when wealthy people would come from London for their Summer leisure activities. (source : Dr Dawn Crouch, Curator, Westgate Heritage Centre)
Previously planned for 18th & 19th June. Running 12 noon - 5pm daily  
Westgate on Sea Town Council present their first Scarecrow Festival organised by Community Spirit Craft Group and Fixology to coincide with the Town Anniversary 
It hopes to provide a brilliant opportunity for families to get out and discover the wonderful creations spread around the Town and vote for their favourites.
The scarecrows will be located all around Westgate on Sea, so be prepared to do plenty of walking.
Further details to be announced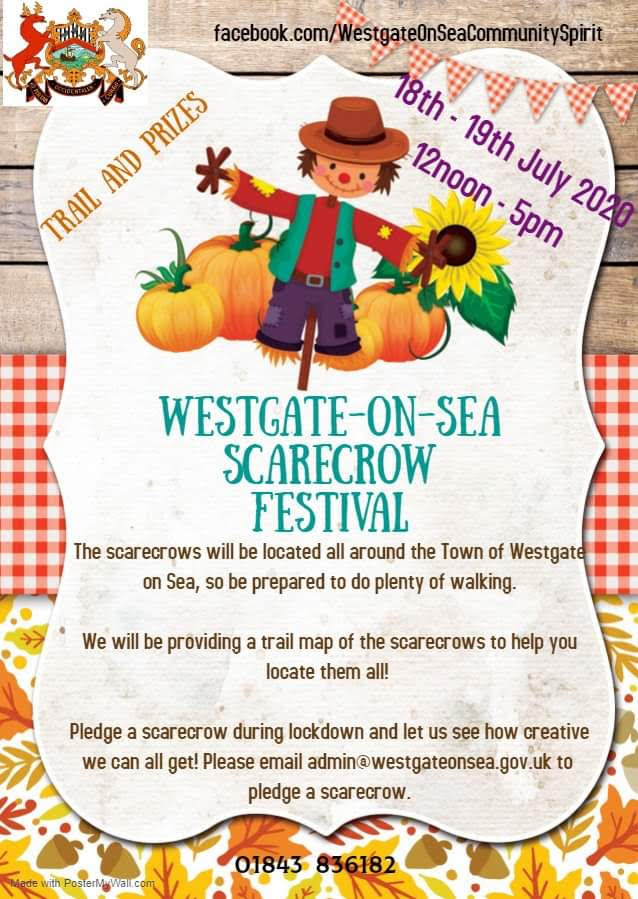 Address
Locations around Westgate