Isle scream for ice cream
Summer is here and the days are brighter and hotter. So what better way to keep cool than partaking in one of our greatest seaside pastimes… devouring an ice cream! July is National Ice Cream month, so here's the scoop on where to tantalise those gelato tastebuds across the Isle of Thanet.
Whether it's a good ole fashioned '99 or something more artisan, there are plenty of ice cream places from traditional 1950s Italian parlours to contemporary seafront businesses that will add a sprinkle of delight to your trip to the seaside.
Broadstairs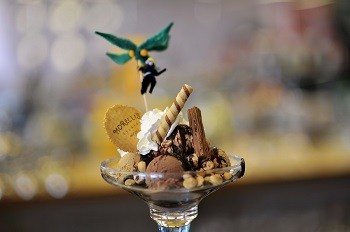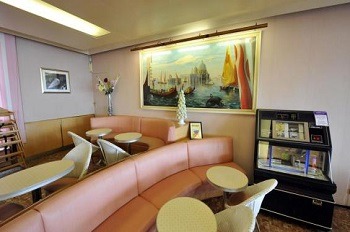 Morelli's
Recently voted one of the best ice cream parlours in the UK by Big Seven Travel, Morelli's was founded in 1932 and is still a family business. This seafront parlour has been delighting visitors to the Isle with their traditional 1950s Italian gelato for decades and has become a destination in its own right.
Experience that magical feel of stepping back in time with Morelli's soda fountain, juke box, formica tops and pink leatherette booths…overwhelmingly nostalgic, it's makes for a wonderful walk down memory lane and overlooks the beautiful Viking Bay in Broadstairs.
Chiappinis
Along the front in Broadstairs is Chiappinis, with a selection of traditional ice creams, as well as coffee, all overlooking the magnificent Harbour.
Ramsgate
Sorbetto
The Ramsgate Ice Cream Parlour delights in the great tradition of freshly made Italian ice cream at the seaside, as well as sorbets, desserts, and Spanish 'churros' (doughnuts). Nom nom!
Birchington
The Parlour
In Birchington, this 1940'S period cafe specialises in traditional ice cream and makes it easy for gelato to be your starter, main or pudding as they offer breakfast, brunch and lunch to enjoy alongside your ice cream of choice.
Margate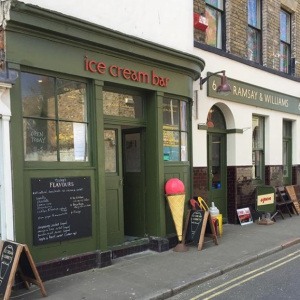 Ramsay and Williams, Margate Old Town. Credit Ramsay and Williams
Ramsay and Williams
Right in the heart of Margate Old Town, this offbeat antique and vintage shop is renowned for its award-winning artisanal ice cream and sorbet with hundred and thousands of different flavours (well, maybe not hundreds and thousands, but they definitely have a wide range to choose from!).
Melt at Sands Hotel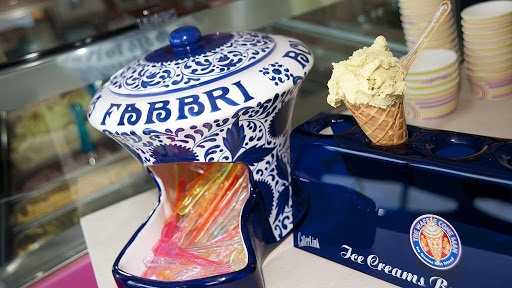 Melt Ice Cream Parlour
If you're looking to scoop up handmade gelato on a seafront stroll, Melt's lovingly handcrafted ice cream, made on the premises and served in a contemporary parlour opposite Margate Main Sands, is just for you. This new take on seaside tradition ensures that all the ingredients are natural, and the milk and cream used to make the ice cream is from a herd of cows based at Hinxden farm in Kent.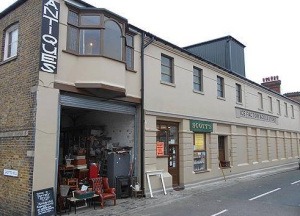 RG Scotts Furniture Mart. Photo RG Scotts
If you fancy a little trip down ice cream memory lane in Margate, the treasure trove that is RG Scotts Furniture Mart in Bath Place, Cliftonville used to be The Kent Pure Ice and Kent Coast Ice Cream Co's Ltd in the 1930s and is listed as Ice Cream manufacturers, ice merchants & cold storage in 1957. You can still see the 'Ice Factory and Cold Store' sign on the front of this antique hunters' haven when you visit today.
Ice cream facts
Vanilla is the most popular flavour of ice cream
It takes roughly 50 licks to finish an ice cream cone
The most profitable day for ice cream sellers is almost always Sunday, or should that be sundae…
What's your favourite flavour?
Ramsay and Williams Ice Cream. Credit Ramsay and Williams
We asked Ramsay and Williams in Margate Old Town to share what their most popular flavours are, including dairy and gluten free options…
"Mint choc chip is an all time favourite (our's isn't green so people don't always see it straight away!), but our slightly more unusual flavours are equally popular, such as coffee with Kentish cobnut fudge, stem ginger and marmalade, brown bread. Visitors definitely want to try something a bit different and also something made from natural ingredients. The biggest change in trends we have seen this year is the demand for dairy free ice cream. We stock pots of vegan ice cream in a range of flavours and we always have at least one scooping flavour available, at the moment this is Chocolate and orange blossom. Our sorbets are increasingly popular, children love the naturally bright colours, and these are dairy free as well. Our gluten free cones have been a great success."
Share your Isle scream moments at #VisitThanet